Yay, you're planing to do the Laugavegur? It's still one of my top hiking adventures. Probably my number ONE. Iceland is soo beautiful.
In my photo story I didn't cover much technical details, such as the gear I used, cellphone coverage, weather and other issues, but apparently those are the questions visitors of my website are looking for.
Thanks for bombarding me with comments and emails. It's a good reminder that great photos and an interesting story are the appetizer, but you want it backed up with facts and info. See....I am learning from your comments. 
In this article I am answering questions I got from you, who are visiting my website or watching my YouTube channel. If you have more questions, write into the comment box below and I will add more text to this Blog article until it is complete.
Cell Phone Coverage. I do not remember checking my smartphone for a signal while hiking the Laugavegur trail. I don't remember looking at my smartphone at all :-)  I am pretty sure there is no signal. You are pretty much off the grid while out there. The only way of communication would be other hikers. Or, once you have arrived at the hut, the warden.
Communication On The Trail. If you go during the regulare hiking season than you will meet other hikers every day. Don't be surprised, you will pass groups, up to 20 people. In one of my videos you can see a large group fording the river (the river where I forgot my camera bag on the other side...aaah!). You will pass other hikers - solo hikers (male and female), pairs and small groups of 3-5 persons. 
My personal safety guideline, particulare when I do solo hikes: stay on the trail, then chances are high somebody will come by and find me and get help should emergency arise. You will enjoy solitute on the trail, yet you will run into enough other hikers.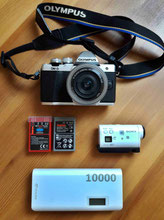 Electricity on the Laugavegur Trail. Yeah, nowadays we carry a load of electronics around with us. Pretty much everywhere we go. Even on the trails. Let me think what I had with me... my mobile phone (though I never used it), my digital camera, my video camera. At least those three electronics. Who knows what else. It was important that my digital photo camera and small action cam where always charged. Therefore I carried two spare rechargeable batteries for my Olympus. Plus a 10'000mAh powerbank. This was enough for me to get by on the Laugavegur.
Don't rely on power outlets in the huts. In the one hut I stayed I didn't see any power outlets. Don't know if the other huts have.
Don't forget charge cables and spare memory cards.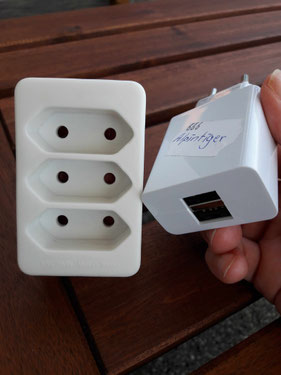 How To Become A Very Populare Person... when traveling and staying in places with limited number of power outlets? The answer is: Bring splitters!
Well, this is not so much an advise for on the Laugavegur trail, because there you simply won't find any power outlets, but may be very helpful for most other places you travel ;-)
I have seen it so many times - in huts, hotel or hostle rooms, coffee shops - tourists would storm towards one of the few power outlets, to charge their precious phones, tablets or laptops. Some will hog one outlet for hours, to run their power thirsty laptop. There is no telling when they will be done surfing the internet or watching videos or have lengthy correspondences or whatever they do, while others are dying to get a little battery power back onto their phone. Well, if you have a splitter you can at least kindly ask if they will share the power outlet. If their plug fits into your splitter.  
In this photo you see two type of splitters. Are they called splitters in English? Or multiplug outlet? Or receptacle? (Someone told me they are called "serial firestarters"...uhm?) Anyway....The one on the left offers three sockets for a type of plug that is relatively common in mainland Europe. The splitter on the right offers two USB contacts. Has anybody ever seen one with more than two USB sockets? I'd like to have one.
Mind you, you may still need an adapter, to fit the splitter into the local power outlet. 
Weather Forecast. Yes, wheather out there can be unpredictable and change quickly. Probably the hut wardens get regulare weather forecasts. I never checked, to be honest. I just trusted my gut feelings and was fully prepared for whatever weather. IF a hut warden or a local person would warn me of dangerous weather condtions, then I would heed their warnings. I always did when hiking in the Alps. When locals told me, "It's too dangerous to cross this slope today", then I followed their advise.
I had no such situation on the Laugavegur, but freak weather conditions can happen. 

Clothing. On the Laugavegur I had my full rain gear on board (goretex rain jacket and rain pants). For cold weather I had a warm hat, gloves, scarf, long underpants (wool, Icebreaker) and a lightweight insulated jacket (Montbelle, lightweight down anorak). My sleeping bag (I was camping) had a comfort rating of -2°Celsius. I don't remember being cold during any of those nights, but I wouldn't do it with a sleeping bag with a comfort rating above 0° Celsius.
If I go on hiking adventures like this I expect to get wet, cold, dirty and, at times, miserable. I accept all this as part of the adventure and won't let some rain stop me :-)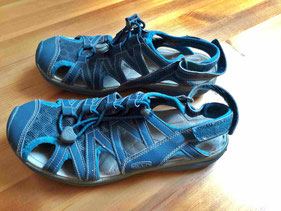 River crossings. Very important - bring some very well fitting sandals, for the river crossings. The stones in the rivers are edgy and very sharp. Bring walking poles too. You'll find them super helpful to stabilize yourself while crossing such streams. No, you won't find any suitable wooden sticks lying around, because there are no forest growing for miles and miles. As a matter of fact, there are hardly any forests in all of Iceland that deserve the name. The water runs fast, the river bed is uneven and stones will roll under your feet. The water is very cold and your feet will go numb. Which you'll find blissful compared to the initial shock and pain the freezing water will cause. Plus, you probably wear a heavy backpack, which, all of a sudden, may act up like a demon, strapped to your back, waiting for the moment you're a little off-balance, to yank you around and pull you into the water. 
Oh yeah, demon backpack... here I got an advise from another hiker, who saw me wading into the stream. The gentleman told me to open the hip belt and the small buckle across the chest. In case I did fall into the water, then I could quickly slip out of the shoulder straps and free myself from the backpack. I think that is very sensible advise. Chances are your backpack won't be carried downstream so fast that you can't grab it anymore, once you've jumped back onto your feet. In this ice cold water, you'll want to jump back onto your feet as fast as you can and you'll be so much faster, without a heavy backpack on your back. Don't underestimate the shock of falling into an ice cold stream and your face being pushed under water. It may quickly cause panic and confusion. You don't want to waste time fumbling for buckles to open your hip belt and chest strap.
Huts. Do you plan to stay in huts? Please make reservations well in advance. With the exception of one night, I stayed in my tent. And the one night I stayed in a hut, apparently I was lucky that a group had canceled and there was free space. Huts oalong the Laugavegur are usually booked out. Other hikers told me, they made their reservations as early as one year in advance and were still put onto a waiting list for one or the other hut. Hut space is very limited and the Laugavegur trail is populare. 
The huts provide very basic facilities. Toilets. Washrooms with cold water. Not all have showers. Self-cook kitchen - available only for guests, not for campers. You must bring your own food. They don't sell meals. There may be some beds, but I don't think they provide linens or blankets. Or there is just a large room with matresses on the floor. 
There are no power outlets.  
Sooo....for the moment that's all I can think of.
You have more questions? Please don't hesitate to write into the comment box below. I will then add whatever information I have to this Blog article. Comments and questions are welcome. 
Kind regards and talk to you soon.