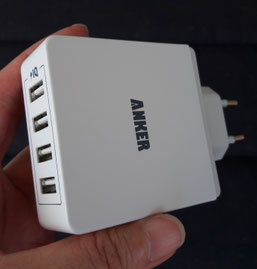 In my last Blog! post (Laugavegur Trail - General Information) I talked about the difficulties of keeping all the electronic gear charged while traveling. Some places (huts, hostle, hotel rooms, coffee shops,...) have a shortage on electric outlets.
I explained how bringing a multiplug can easily make you a very populare person.
In my Blog! I asked, if anybody had seen a multiplug with more than two USB outlets. I had been looking for one in the local stores, but only found those with two USB outlets.
Within a day I got an email from Argentinia...Yes, Argentinia. Who knew anyone reads my website in Argentinia.
Well, the email had a link to the Amazon store, where they sell various USB multiplugs. It directed me to the Anker USB adapter with four outlets. Hurray....exactly what I was looking for. I ordered it and are now holding the Anker Quad-Port Wall Charger in my hands. From now on I will be a four times as populare person to share an electric outlet with.
The Anker Quad-Port Features (according manufacturers own data):
Full speed charges for every device (up to 2.4 Amps)
36W of Power: Enough power to full-speed-charge 4 devices simultanously
Compact profile allows for easy purse or bag stowage
My own remark is: The thing is maybe a little heavy, with 125 Gramms.
In other countries I will also need an adapter, as the two pin design doesn't fit all standards. 
I asked a question on my Blog! and someone in the world answered it for me. I love it.
Many thanks to Facundo, from Argentinia :-)