Summary: In spring 2018 I visited Malta. While on Malta I decided to omit the return flight and add a journey to Italy to my adventure.  In this chapter "MALTA & GOZO" I chornicle the first part of this journey.
Packing is half the adventure...
This time I am trying a new approach to traveling: no more baggage than what fits into one carry-on size piece of luggage.
Of course, in my case it needs to be a small backpack, not a wheeled suitcase, or shoulder bag since...
a) I am planning to travel to various destinations, using public transport
b) want to go hiking 
I checked my airlines maximum size and weight restrictions for hand baggage: 20cm x 40cm x 55cm and up to 10 kilo weight.
By the way, I used to think there was something like standard "cabin luggage". Nope. There isn't one size and weight that applies to all airlines. They all have their own variations in size and weight restrictions. Better check with your airline before you go.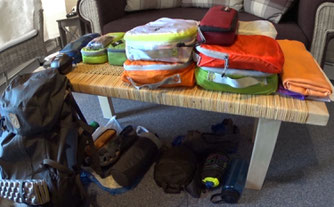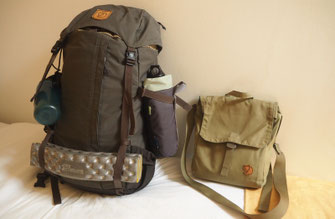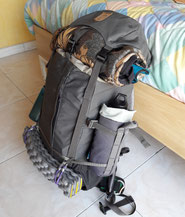 My Fjällräven Kaipack 28 daypack just fits the size restrictions. It doesn't have a padded, fully supportive hip belt, only a belt strap, but for a daypack of that size, I usually wouldn't consider it necessary anyway. On this trip though, I am going to use it as my main piece of luggage for a week or longer. Everything I need for the coming weeks must fit into this backpack.
Packing for this trip becomes an adventure in itself. Never before have I tried to restrict myself to so little, for such a long trip.
Ooh, I like this challange. How much do I really need? With how little can I get by?
Remembering all the items, which - at the end of a journey - I packed out of my bag, realizing that I had never, not once, used them during that whole trip, but carried them around all the same. This time I try to pack the absolute minimum. We shall see how that goes.
---
Gozo is the second largest island of the republic Malta.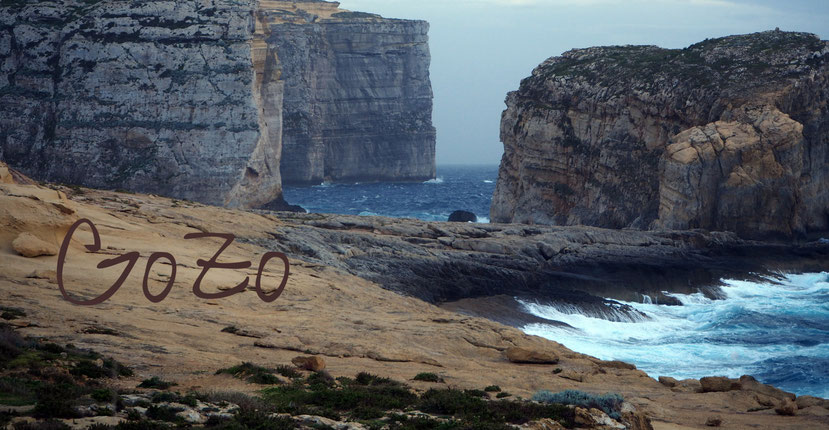 Arrival - Late at Night. Tuesday, 20th of March 2018. It's close to 23:00 o'clock, when I arrive at Luqa Airport on Malta. I have a reservation for a hostel in Sliema. Getting a taxi at the airport is easy. I am surprised how very well organised the service is. There is a ticket offfice inside the airport. A large board lists fixed prices to various destination. Customers tell their destination, pay, get a ticket with a number and are picked up by the next available driver. Easy and quick. No worries whether I will be beaten over the head with a hefty surcharge for being a foreigner. 
Day 1 - Malta to Gozo. In Sliema I am staying at "Hostel 94". Only 11€ a night. I expect nothing grand for 11€. A bed in a shared room, a very friendly host greeting me in the morning, a breakfast, consisting of toast, mini muffins and....uhm, that's it. Still, I find nothing to complain, considering the price I payed.
It's mid-morning when I am traveling with the public bus from Sliema to Cirkewwa. A one hour journey, in a rather crowded bus. 
When I arrived last night it was too dark to see much, but now, peering out of the bus windows, I try to collect first impressions of Malta....mmm, the place is very densly populated, with one settlement seamlesly going over into the next. At least along the coastle route, which the bus is traveling. 
At Cirkewwa the bus drops us off at the ferry terminal. So far, even I, as a complete stranger, found my way arround with ease. English is one of two official languages. The other national language is Maltese, which developed from a medival Arabic.
I take the next ferry to Mgarr, on Maltas smaller island Gozo. From there with public transport first to Victoria and then on to Gharb, where I have booked an accomodation for the next few days.
---
Northern Coast, Tal-Gordan, an impressiv rock arch and Ta' Pinu

A day hike along the coast north of Gharb. Basically this hike is a circulare route around the hill with the Tal-Gordan lighthouse. The lighthouse can serve as point of reference on this hike, as it will remain in view almost all the time.
Start & End: Gharb
Distance: 13 ~ 14 km
Time: 3.5 - 4 hrs
Animated video shows the route of this day hike
Private Property... No Entry...
I saw many of those signs along the route. Trail markings, however, are not a common sight. It takes a bit of navigational skill to figure out which way to go. Please read the article I wrote about "Private Property and Trail Markings"  further below on this page.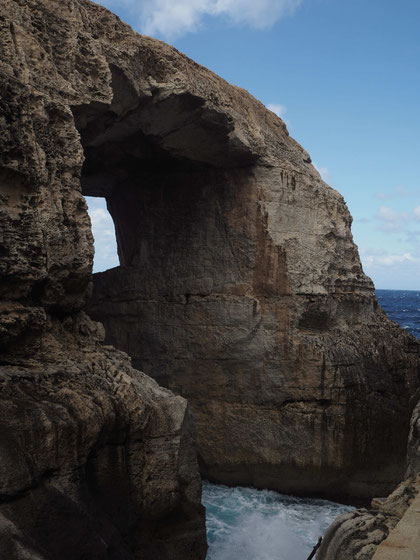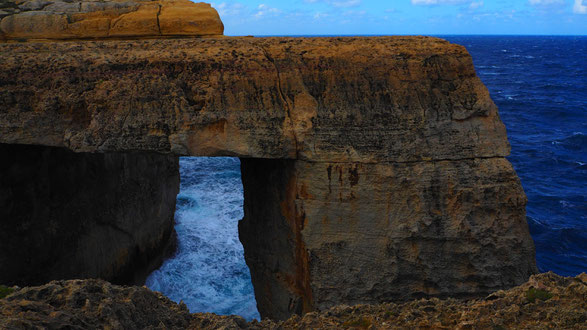 The trail leads to the Window of Wied Il-Mielaj. A large rock arch.
After the collapse of the famouse Azur Window, on the 8th of March 2017, is this Gozos most impressiv rock arch.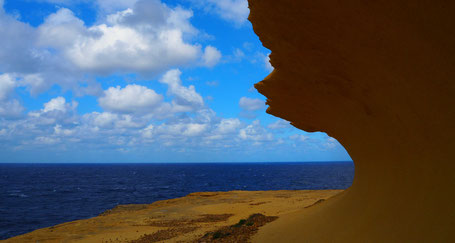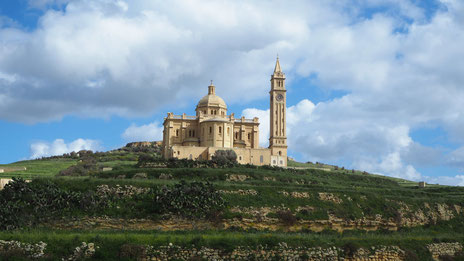 ---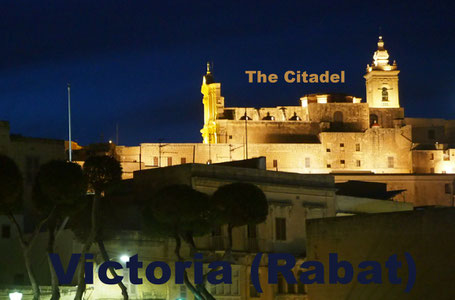 Victoria is the capital of Gozo. The maltese often still call it by its old name Rabat. The name Victoria was given on Queen Victoria's Golden Jubilee 1887.
Victoria's historic town centre with its narrow streets, busy market place and string of cafe's, bars and restaurants along the main road are well worth a visit. There are several museums. Do take a look inside the San Gorg Basilica and don't miss visiting the Cittadella (Il-Kastell). Victoria is a small place, everything is within walking distance.
Victoria's central bus station is the main hub for public transport on Gozo. Buses run surprsingly frequent, at least every hour, and reach pretty much every corner of the island.
Local Food: Pastizzi & Pastizzerijas 
Maltas national pastry are Pastizzi, flaky pastry parcels with various fillings, usually consisting of ricotta and parsley or mushy peas. They are sold still warm at little corner stores, the Pastizzerijas. They cost between 0.30-0.50 € a piece and are a delicious snack. A few of them make a cheap and filling meal. There are two or three Pastizzerijas at the street Triq Taht Putirjal, only half a minute walking distance from the central bus station. I frequently dropped by, bought a few, before catching the next connecting bus.
Restaurants
I particulare liked the "Capitan Spriss - Italian Bakery" at the corner of Triq ir-Repubblika and Triq Taht Putirjal. A very small place, charmingly decorated, good coffee, food and friendly service. I went there three times for lunch. The salad was fresh, good and came with a warm breadroll. I particulare recommend the omelette with zucchini and bacon.
Try "Palazzo Antonin" (at Pjazza I-Indipendenz), if you like the charm of an old royal luxus liner, ready to spring a leak and sink to the bottom of the ocean. A bit dark and dank inside, with lots of red velvet furniture, waiting for clients like worn-out whores. The coffee was drinkable, the salad edible, the hefty price-tag for the mediocre food convinced me to think this indeed must be the local brothel and that it was time for me to get the hell out of there.
The Basilica San Gorg. This baroque church building is situated at the Pjazza San Gorg in the centre of Victoria. The church has a splendid interior, covered in marble and gold stucco. This is why it is also called "the golden church". 
The Cittadella. One can easily spent half a morning or afternoon walking between the buildings of the Cittadella, admire the exquisite interior of the Cathedral of the Assumption (below image 6), visit the underground granary (below image 5) and enjoy the many magnificent views from the wall (below images 2,3,4). The walls that protect the Cittadella are dating back to the 15th century. The hill, overlooking Victoria and the surrounding countryside all the way out to the sea, has been inhabited since the bronze age. It has seen a succession of extensions and reconstruction over the centuries. 
---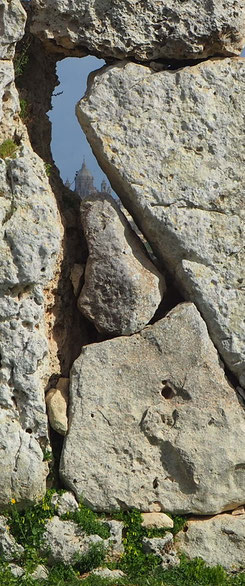 On a hill at Xaghra sits the impressiv megalithic Ggantija temple complex. These temples were built from 3600 to 3000 BC, during the neolithic era. Thus Ggantija is a 1000 years older than the egyptian pyramides. The temple is situated so it offers a wide view over most of southern Gozo. The remaining walls of the structure are over six meters tall. It is the largest of several megalithic temples on the maltese archipelago and well worth a visit.
There is also a modern vistor centre, which shows other finds of artwork and daily life of the neolithic humans. It explaines the context of the artistic and technological development in a very early period of human cultur.
Together with similare megalitic temples they are part of the designated UNESCO world heritage sites "Megalithic Temples Of Malta".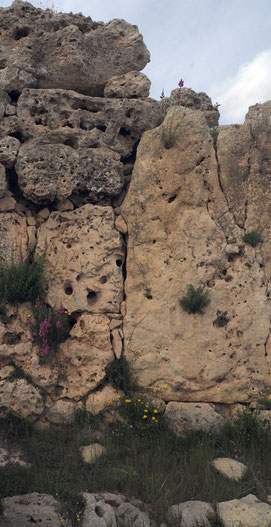 ---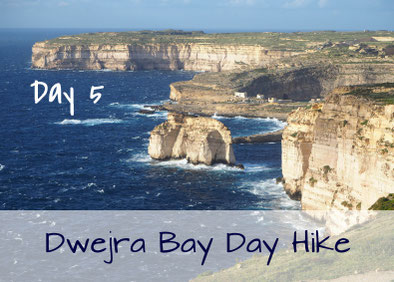 Start: Ix-Xlendi (bus stop)
End: Dwejra (bus stop)
Time: ~ 3 hrs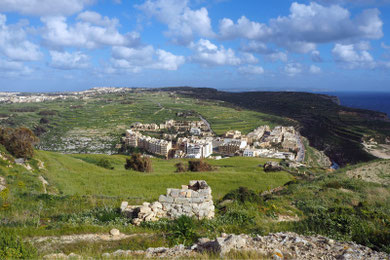 Ix-Xlendi used to be a fishing village and is picturesquely located at the narrow Xlendi Bay. There is a public bus connection from Victoria with a regulare service.
Behind the village a very poorly marked trail leads up the northern flank of the bay. I find none of the red dots or arrows, which elsewhere mark trails. I have to do my own navigation. Sometimes I find small cairns, low piles of stones, of which I am not always sure whether they are an accidental accumulation or man made. There are a few steps, carved into the limestone. Sometimes I follow barely visible paths across bare rock and through the low maquis vegetation. All I know is, I have to get up to the plateau and then contour along the coastal cliffs. Once up there I am rewarded with a fine view back at Ix-Xlendi (see picture above on the right) and across the coast. Navigation stays a bit tricky - dirt tracks between fields, narrow concrete strips and single lane roads squeezed in between drystone walls. Finally I arrive at Ta'Sarrafflu, a small pond with some ducks on it, picknick benches and a car park. Here starts a really nice coastal trail, which leads to an ancient punic temple and eventually down to Dwejra.
For the first time, I see an actual trail sign. Just as I begin reading the text, a man in a parked car, calls me. "The trail is closed", he says. 
"The trail is closed?" I ask, equally surprised and disappointed, as I approach his car.
"Yes", he replies curtly, through the rolled down window, with barely a glance at me.
I hope for a bit more information, as of why the trail is closed and which route to take instead, but none is given.
"I want to go to Dwejra Bay...is there a different route?" Apparently he is a local and I assume he knows which trail is closed and which is open.
"There", he points a direction behind me. 
I turn around and disbelieving stare down the road, which leads away from the coast and into the inland. It's not a trail. It's the damn road!
"Down this road?"
"Yes".
Hesitatingly I walk towards the road. Looking left and right. Still fully expecting to see a sign to another hiking trail or footpath. 
As I begrudgingly walk down the road, something feels increasingly wrong about this. The way this guy avoided looking at me. The hand movement as he pointed down the road, almost like swating an insect away. That there was an official trail sign, but no notice anywhere that it was closed.
I don't like this road. It turns inland, away from the scenic coast and a huge detour if I want to reach Dwejra. It is a narrow, single lane road, curving through a countryside with largely barren fields. Its  high drystone walls block the view. I don't see cars coming and drivers don't see me, until the last moment they come around those curves. The drystone walls make it impossible to escape to the side. There isn't a lot of traffic, but locals and tourists drive here. This isn't just an ugly and much longer route, it is dangerous for pedestrians.
I remember the many "Private Property" and "Keep Out" signs I saw on the dayhike north of Gharb. Every couple of meter another hand painted sign, or a "Keep Out" sprayed onto the rocks.  It made me really uncomfortable walking through there. Certainly made me feel unwelcome. 
---

Private Property and Trail Markings 
I researched the issue a little bit. Apparently many private landowners see the "Right of Way" for hikers a little different. They'd like to keep them out and try to deter them with signs every few meters. 
I am very much respecting privat property and would never dream about trespassing, but in this case I was following the offical hiking trail "Gozo Coastal Walk", as initiated by the Ministry of Gozo! 
Trail markings, if present at all, are made with red spray paint. Dots and arrows. Sometimes you'll find them every few meters. Sometimes they are totally faded. Often there are none. Better don't count on them.

---
A minute or two down that road I stop and study the tiny map in my guidebook. A little further ahead of me, on the left, turns a path off the road. I hope this will bring me back to the "Gozo Coastal Walk". On the way I have to pass lots and lots of angry "Private Property" signs, even spot an angry security camera and hear angry dogs barking. Meanwhile I am a damn angry Alpintiger myself, because I feel pretty deceived by this guy in his car, who couldn't bear looking into my eyes as he lied to me about the closed trail and send me the wrong way. Setting up signs is one thing, but sending me down a busy countryside lane, of which the person knew very well would, firstly, take me into the wrong direction and, secondly, put me, as a pedestrian, into harms way, is a whole fucking different story! 
Eventually I find my way back to the Coastal Walk and yes, this is a beautiful trail, with many fine vista across the coast and sea. It makes me all the more angry to think I would have totally missed out on this.
From here on there are a lot of trail markings: red dots and arrows, spray painted onto the rocks. Now the trail is easy to follow.
I totally start enjoying this hike. Further down the trail I come across a punic temple, carved into the limestone rock. Today it is no more than a rectangulare chamber, with a few niches in the wall. It's dated back to the punic period, around the 3rd century BC. From its chamber it offers a majestic outlook across the deep blue mediterranean sea.
Dwejra Bay, the Broken Azur Window and Game Of Thrones
It was well past noon when I started this hike. Now I am enjoying the gorgeous afternoon light, with its rich colours, as I am rounding the hill side and the view opens to Dwejra Bay below.
Dwejra Bay was once the home of Maltas most famouse natural wonder - the Azur Window. Until the 8th of March 2017, when this gracefull, 100 meter long and 40 meter high rock arch completly collapsed during a storm. I was one year too late, to admire this famouse natural wonder. 
Still, there is the majestic Fungus Rock, the Blue Hole and the Inland Sea to admire.
The specteculare rockformations of Dwejra Bay, including the still existing Azur Window, were used to film the Dothraki-Wedding scenes for the TV show Game Of Thrones.
It's past 6pm and getting dark, when I take the last bus of the day to return to Gharb.
---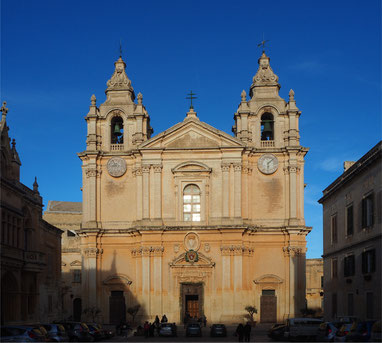 With Medina begins a new, uncharted part of my adventure. I left Gozo and moved to Malta, to explore some of the attractions on the main island. Number one is Mdina.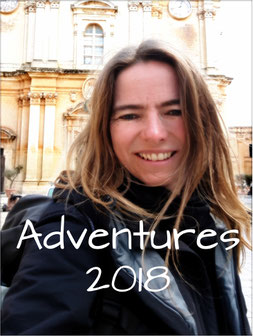 The look on my face after failing to board my flight back home.
On Tuesday the 27th of March I did not board my plane home. It wasn't by accident. It was a decision.
This idea had been in the back of my mind, even before I started out on this trip. I left the possibility open to extend my trip for some time and, instead of flying home, travel back via land and sea transport or which ever other methode of traveling was available. I didn't have a schedule, I didn't have a route, I didn't have plan, no deadline to meet. I was free to travel as it pleased me. In my mind it was now that the real Adventure began.
Mdina. The name derives from the arabic word Medina, which means "walled town". Until and throughout the medieval ages Mdina was the capital of Malta. Even after it lost this status to Birgu and later to Valetta, it remained the preferred residence for the nobel families of Malta and religious authorities.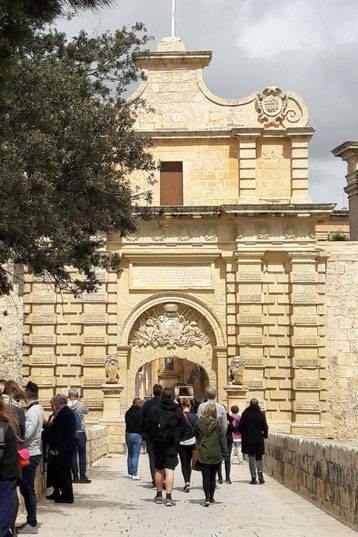 Mdina is enchanted. It is like stepping off, into a different world, where time stood still for centuries. Surrounded by honey coloured walls, it is a golden, architectural treasure from a different age.
Tourists from all over the world come to marvel at this largely intact medieval city. Most will enter the city through the monumental Main Gate. Even though it gets busy with visitors during the day, most will stay around the main road. Venture deeper into the maze of narrow streets and you'll still find relatively quiet spots.
The ditch gardens, below the city walls, are actually a good place for a lunch time picknick. Bring your own food and drink, because there is no kiosk down there. Sit on one of the benches and enjoy the relative quiet, as the swarming crowds mostly stay up there.
Not just tourists, but film makers from all over the world love Mdina too. They seek it out for filming historic scenes in an authentic location. For example, Mdinas Main Gate featured in the TV series Game Of Thrones as the Gate of Kingslanding. Several other scenes for the series were filmed in Mdina and other locations across Malta and Gozo.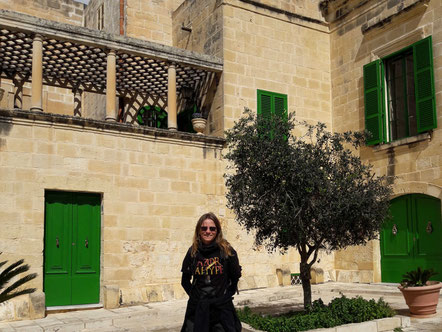 Petyr Baelish's brothel in Kingslanding
Black is usually not my colour. In this photo I look like I have joined the Night's Watch. I doubt that anyone from the Night's Watch can afford a night in Baelish's etablisment though. Even if they were allowed to lie with women. Which, of course, they aren't. Littlefingers brothel is known to be a place of exquisite taste and splendour, serving nothing but the finest prostitutes in all of the Seven Kingdoms.
(Of course, I am talking about Game Of Thrones)
Visit Mdina in the evening. Between 5 pm and 6 pm the tourist crowds rapidly drain out of the old town. The shops close. Suddenly it becomes quiet and you share the narrow streets and small squares with few locals and maltese families, coming out for an evening stroll. Now is the best time for photography. The buildingstones emit a soft golden glow. Listen to the ceaseless cries of the swifts, as they race each other across the cities roofs and spires. Wait until the evening sky fades and the lanterns come on. This is the magic of a mediterranean evening. Take a deep breath. Let it touch your soul.  
---
This was the Malta & Gozo part of my voyage, but the adventure continuous. From Malta I took a ferry to Sicily and from there my Italian journey began. Syracus, Salerno, Pompei, Capri and Neaple where on my route. Click here on ITALY 2018 to be directed to the Italian Journey.